12.5.11 (Official Update)
OFFICIAL CD RELEASE

The latest album "Invested" involving Jason Kraley, Kraley Productions and Still Inertia is best discovered at:

Still Inertia's new album "Invested"...

11.26.11



Thankfulness is of the season, even though people have used pepper-spray in shopping stores to get ahead in line and others have used their vehicles to plunge through Walmarts (hmmm, entertaining in thought and in written premise, but would never advocate in real life.... F'ers....). So I present to you all the QR Code that is on all the postcards strewn the Philadelphia scene.... (scan it from the monitor... yes, it will work... or just click on it.... haha) and from it, it will not only take you to the "Hidden Page of 2011" but it will include an upgraded version of an MP3 for another song called "Eileen"... plus the unreleased (promo-night-only release of the) song "Damocles' Sword" and Closer to Me as well as the recently remastered and re-uploaded YouTube video... Enjoy and, again, please stop by Tuesday, November 29 at The Dive Bar in Philadelphia for one of the most unique experiences in The Dive Bar ina few years... and a first for Still Inertia.


---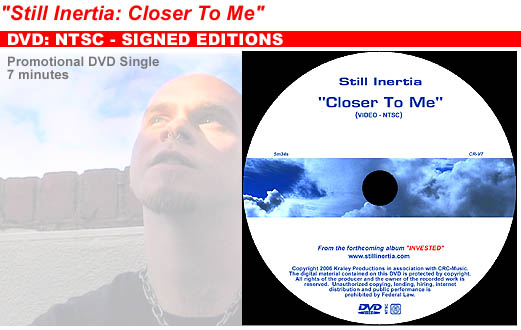 Total time: App. 7 minutes - Price: $4.50 US + Shipping ($2.50)

October 7, 2006 was the official release date of the second music video ever for Still Inertia. It is an exclusively first new music video for a song called "Closer To Me" which is promoting the forthcoming third album entitled "Invested." Using footage spanning over 2 years in Cleveland, Ohio, the final lyrical pieces were shot in a day in Philadelphia, PA. Massive amounts of footage taken in Philadelphia were crunched down during pre-production to workable time-elapsed footage. This video explores the rather ever-changing emotional and mental health of someone who needs to get closer toward their own "within" before they are too far gone. It also demonstrates the continually evolving exploration of the creative boundaries of Still Inertia from its recent years.

The DVD features the full quality version (29.97 frames per second) as opposed to the 15 fps smaller and compressed version in QuickTime format for viewing across the Internet. Fully edited on Final Cut Pro 4.5 HD and finalized with complete menu design and integration on DVD Studio Pro 3. Total editing time: 3 weeks.

Nothing but good news: Every DVD sold will be signed, and this DVD (originally marked as Region 1) is a Region 0 (Plays in all regions) for NTSC display restrictions only.

FILM ID: CR-V7

ALSO AVAILABLE FOR VIEWING ONLINE: (QuickTime, 17Mb)


---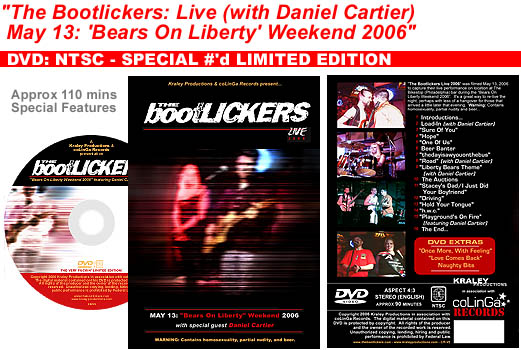 Total time: App. 110 minutes - Price: $10 US + Shipping ($5)

"The Bootlickers Live 2006" was filmed using three cameras to capture a live performance of The Bootlickers on location at The Bikestop bar during the "Bears On Liberty Weekend 2006". If you were at the film debut (August 25-26, 2006), you had the opportunity to have these numbered editions signed by the band. These are the remaining limited numbered editions of the DVDs sold on the "Open Your Eyes" Film Debut Event (without their signatures, since each dvd was personalized during the event per customer). Regardless, this DVD is a great way to re-live the night, perhaps with less of a hangover for those that arrived a little late that night. Features John McNeill, June Bromley, Toshio Mana, Daniel Cartier, Jeremy Burton, Stacey Franklin, Dawn Marie, and Venice Cub. Main feature runs 90 minutes. Special DVD Extras include 2 fully edited and color corrected live performances of "Once More, With Feeling" and "Love Comes Back". And there is a little extra feature simply entitled "Naughty Bits".

This DVD was marked as Region 1, however it actually is a Region 0 (Plays in all regions) for NTSC display restrictions only.

Though the film was shot over the coarse of 3 hours (May 13, 2006), the actual creation of the 90 minute feature with over 9 hours of footage captured kept Jason Kraley busy for over 8 weeks. This feature marks the first Kraley Productions DVD project and was fully edited using Final Cut Pro 4.5 with full DVD menu design, navigation and programming using DVD Studio Pro.

FILM ID: CR-V5


---
Kraley Productions (and its subsidiary, CRC Music) trusts and accepts all major credit cards, eCheck and PayPal transactions online via PayPal's shopping cart services. Currently, our transactions are for US currency and national shipment. If you are outside of the US, and would still like to make an online purchase, please contact our International Handling Department. We will generate special shipping price pages to assist, customize and expand your shopping cart experience so that we can deliver the goods globally proper.


---
SHIPPING: Shipping is a flat rate of $5 on everything totalling $5 or more. We ship everything 2-3 Day Priority United States Postal Service Mail with a Tracking Confirmation number. Anything under $5 will carry a $2.50 shipping charge and sent via First Class United Postal Service Mail with a Tracking Confirmation number.
---
If you would like to make a purchase with a check or money order the old fashioned way, we have no problems with that. We will, however, require a time period for a bank check to clear before shipping occurs. Please contact Purchasing directly for our mailing address. And as always, we appreciate your support and honor your business.